2020-2021 SCHOOL YEAR
NEWS & UPDATES
January 2021
PRAIRIE HEIGHTS ELEMENTARY SCHOOL AWARDEE
Comprehensive Early Literacy Grant Program Click here for more information.
---
November 24, 2020
A letter from the Superintendent regarding recent updates to El Paso County's "RED" (severe risk) status.
Helpful links for our community:
CDC Holiday Guidance
CDC Thanksgiving Guidance
CDPHE Thanksgiving Guidance
---
November 19, 2020
---
October 30, 2020
Covid Exposure Letter to Full School Community
---
October 30, 2020
JUNIOR HIGH BASKETBALL FALL/WINTER SEASON CANCELLED
Letter from the Superintendent
---
September 22, 2020
IMPORTANT NOTICE REGARDING TRANSPORTATION
Transportation changes for student drop-offs at bus stop locations will go into effect Friday, September 25th! Please read the Interim Superintendent's letter here for more information.
---
August 5, 2020
PARENTS: A TOWN HALL SCHEDULED FOR YOU!
As the 2020-21 school year approaches closer, we'd like to have a town hall meeting to discuss the available options for students returning to school, to discuss what may not have worked in the Spring of 2020 and answer ALL questions YOU, as parents, are entitled to. Please consider joining our town hall meeting on August 11th at 5:30pm where questions will be answered! The meeting will be held at Hanover Jr/Sr High School where we can accommodate more and still abide by state ordinance. Hope to see you there!
If you are unable to attend in person, please feel free to watch via zoom here.
---
2019-2020 SCHOOL YEAR
End of Year Parent Information
May 10, 2020 End of Year Parent Communication
April 16, 2020 Parent Communication – no in-person education for the remainder of the school year
April 1, 2020 Parent Communication – eLearning Day #1
March 30, 2020 Parent Communication – Materials Pick Up Details
March 25, 2020 Parent Communication – eLearning Plan Details
March 20, 2020 Parent Communication
District Newsletter February 2020
District Newsletter January 2020
District Newsletter December 2019
District Newsletter November 2019
Middle School Boys and Girls Win First Tournament of Season at CSDB (Nov, 2019)

District Newsletter October 2019
School Board Election Results 2019
District Newsletter September 2019
State Report Cards Go Up!
Every year in August the state of Colorado gives each school and district in the state a report card called, performance framework. The top two ratings for schools and districts is the goal. The report cards are based on the 2018-19 school year's student achievement and growth on the state assessment, SAT and PSAT assessments, graduation rate, and second language learner language development growth.
Prairie Heights went up one rating, Hanover Jr-Sr went up a rating, and the district's rating went up one rating. Our schools and our district is performing at the top two ratings.
CONGRATULATIONS TO OUR STUDENTS, PARENTS AND STAFF!
See the report cards (frameworks) here: PHE JSHS DISTRICT
STATE LEADERSHIP ROLES
The 2019-20 school year brings leadership roles for Dr. Grant Schmidt (Superintendent/Principal) and Mr. Tim McNerney(Principal).
Mr. McNerney will represent Region 6 (Pikes Peak area) on the Board for the Colorado Association of Secondary School Principals, a department of the Colorado Association of School Executives. He was selected by peers.
Dr. Grant Schmidt just finished his one-year term as President of Colorado Association of Education Specialist, a department of the Colorado Association of School Executives. For 2019-20 he serves as Past-President. He is a member of the Colorado Association of School Executives' Coordinating Council. For the second year in a row Dr. Schmidt is the Co-Chair of the Legislative Committee for the Colorado Association of School Executives. Additionally, Dr. Schmidt serves as the Chairperson of the NEED Foundation in Colorado Springs. Finally, Dr. Schmidt is serving a second year as the Treasurer of the Board for the Colorado Rural School Alliance. Dr. Schmidt is also among a representative group of state Superintendents reviewing legislative language for Mill Levy Equalization in Colorado.
__________________________________________________________________________
NEW PLAYGROUNDS INSTALLED
Due to damage from the hail storms and wind over the last 9-months our insurance company replaced the playground structures at Prairie Heights Elementary School and Kirk Hannah Park.
Prairie Heights Playset Rendering
Hannah Park Playset Rendering
__________________________________________________________________________
EDISON PROPANE GIVES BACK
Dr. Grant Schmidt (Superintendent) & Mr. Tim McNerney (JSHS Principal) accepts a donation check
__________________________________________________________________________
SUPERINTENDENT TESTIFIED AT CAPITOL
Superintendent of Schools, Dr. Grant Schmidt, testified before the Colorado House Education Committee on Monday, April 16th in favor of the proposed 2018-19 School Finance Bill. The bill requests an increase in funding to school district between $222-450 per student, provides $30M to be allocated to rural school districts (approximately $96,00 for Hanover School District), a permanent buy down of $150M on the current $850M budget stabilization factor (approximately $60,000 for Hanover School District), and a reduction in state reporting requirements for rural school districts. Thank you to Rep. Paul Lundeen for recognizing Dr. Schmidt and Hanover School District's needs before the committee during testimony.
__________________________________________________________________________
SCHOOLS & DISTRICT MAINTAIN STATE RATING
Each school year the Colorado Department of Education essentially grades all schools and districts using a Performance Framework. For the second year in a row both Prairie Heights ES and Hanover Jr/Sr HS maintained their rating. LINK CONGRATULATIONS!
__________________________________________________________________________
HANOVER 6-12 ONLINE ACADEMY

Now accepting applications. Click here
__________________________________________________________________________
HANOVER JR/SR HIGH SCHOOL EARNS PRESTIGIOUS AWARD
Each year, the Colorado Department of Education recognizes public schools as Centers of Excellence in the state that enroll a student population of which at least 75 percent are at-risk pupils and that demonstrate the highest rates of student longitudinal growth, as measured by the Colorado Growth Model. In the school performance framework that is used by the state to evaluate schools, these schools have demonstrated impressive results on the indicator relating to longitudinal academic growth. This award program was established in 2009 by the Education Accountability Act of 2009. Award recipients were named at a ceremony on March 1st in Denver. Only nine school districts had a school receive this prestigious award, including Hanover Junior-Senior High School in the Hanover School District. Principal, Danielle Van Esselstine, and Superintendent, Dr. Grant Schmidt, accepted the award from the State Board of Education members and the Commissioner for the Colorado Department of Education.
__________________________________________________________________________
Hanover Awarded THREE Grants
The Hanover School District applied for and was awarded two grants: Perkins Act and SRSA!
The Perkins Act will be used to help fund the start-up expenses for the three new skills programs being developed: wood working, solar and electrical. Information on the Perkins Act can be found here.
The purpose of the Small, Rural School Achievement (SRSA) program is to provide rural LEAs with financial assistance to fund initiatives aimed at improving student academic achievement. Information on the SRSA can be found here.
The district has also received funds from the Federal Impact Aid funds for the first time in many years. Information on the Impact Aid funding can be found here.
The district will be applying for another GoCo Grant, and considering an application for a BEST Grant.
__________________________________________________________________________
Board Approves Adopted Budget
On January 24, 2018 the Hanover School District Board of Education approved the 2017-18 Adopted Budget, to include a list of one-time expenditures. In 2014-15 and again in 2015-16 there were two property tax abatements. As a result the property tax collection for the school building bond would not have sufficient funds to make the annual bond payment. Both of those years the district transferred a total of $165,000 to the Bond Redemption Fund. Now that the mill levy has been adjusted to collect sufficient funds for the annual payment the $165,000 has been transferred back into the district's General Fund. The Board approved spending most of those funds for much needed one-time expenditure items based on staff input. At the same time the Adopted Budget will add nearly $50,000 to the Fund Balance.
One-Time Expenditure List Adopted Budget
__________________________________________________________________________
Newly Elected Board Members Sworn In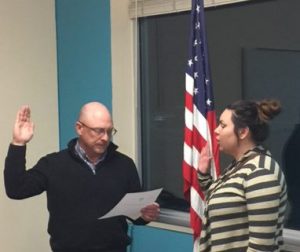 At the December 13, 2017 Special Board meeting Danielle Combs was appointed to the vacant Board seat. She was sworn in by Board President, Randy Underwood. Congratulations!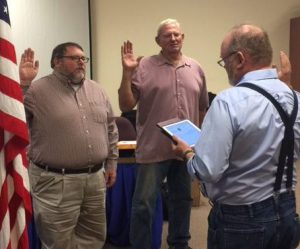 At the December 6, 2017 regular board meeting Dwight Smith and Ed Sweazy were sworn in by term-limited Board President, Mac McPherson. Congratulations!
__________________________________________________________________________
Election Results — Fall, 2017
Hanover School District #28 had two items on the November 7, 2017 ballot. First, there were six candidates running for 2-seats on the Board of Education. Prior to the results being certified the two top vote getters are Ed Sweazy (157 votes) and Dwight Smith (111 votes). Second, a mill levy override failed to pass by 93 votes. www.epcvotes.com
Our community has 1,055 registered voters. This year's voter turnout was right at 37%. Thank you to all registered voters who were able to vote in this year's election!
__________________________________________________________________________
Senior Melissa Vigil Recognized for Youth of the Month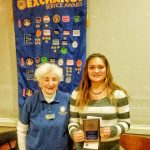 Senior Melissa Vigil was recognized by the Falcon Exchange Club for her high GPA and community involvement. Melissa was awarded the Youth of the Month along with a scholarship, which she plans to put towards her college tuition. Melissa is on the Principal Honor Roll and an active part of the National Honor Society. She is both Senior Class President and Student Council Secretary. Melissa is involved in sports at school, including volleyball, wrestling, and track, and volunteers at the local food pantry. Melissa has already been accepted into University of Colorado, Colorado Springs, but is undecided on her official college choice. She will start in Fall 2018 and plans on studying nursing.
__________________________________________________________________________
Veterans Honored at Assembly
On November 10th Hanover Jr./Sr. High School students and staff recognized Veterans at our school. Different branches of services were honored, as well as those who served in the various branches. Mr. Kyle Clasby had an extremely positive impact on students saying, "There is nothing noble about being superior to your fellow man. The true mark of nobility is being superior to your former self." Thank you to all of you who have served our country.
__________________________________________________________________________
Hanover High School Student Athletes Recognized
Seniors Cody White and Eddie Sweazy III were recognized by Coach Luke Decker at last night's Fall Sports Banquet at Hanover Jr./Sr. High School. Both students are exceptional students as well as athletes. Cody White (pictured left) received an All Conference recognition. Eddie Sweazy III (pictured right) received an Honorable Mention recognition. In order to be recognized for these honors students must be voted on by coaches other than their own within their conference. In receiving the award the students said, "We wouldn't have been able to do this without our coaches: Coach Decker, Coach Tyler, and Coach Mason." Both students will play in the All Star game in June against other students recognized for this honor.
__________________________________________________________________________
Hanover Employee Recognized by El Paso County Sheriff
El Paso County Sheriff Bill Elder started a new recognition program in April. Employees and community members are "coined" with the Sheriff's Coin of Excellence in recognition of stand-out behavior with challenge coins. TJ received his coin for his quick response of opening the Jr/Sr High School building as an evacuation location during the Milne Fire earlier this year.
_____________________________________________________________________________
Hanover's Rotary Champion
Rotary Champions is an annual event presented by the Rotary clubs of the Pikes Peak Region. The awards ceremony is held to honor outstanding scholar-athletes from El Paso and Teller County high schools who have placed a high value on academics and leadership in school, community, and home. Hanover Jr/Sr High School scholar-athlete, Tessa Owens (Senior), was recognized on Monday, May 8th. CONGRATULATIONS!
Through Rotary Champions, recognition is given to approximately 400 outstanding scholar-athletes from high schools throughout the Pikes Peak Region. From this elite group, 25 nominees, each representing a CHSAA-sanctioned sport, are awarded a Champions Medallion. The top female and male scholar-athletes are selected to receive our Rotary Champion Scholar-Athlete of the Year Award, which includes a $5,000 college scholarship, paid over four years, and a trophy. Since 1985, Rotary Champions has awarded 60 scholarships totaling $300,000.
_____________________________________________________________________________
State Representative for the Hanover School District

Superintendent Dr. Grant Schmidt met with the state Representative for the Hanover School District community, Paul Lundeen. The purpose was to share about our school district and community as related to current and future legislation. Rep. Lundeen shared what he supports as adjustments to the Colorado K-12 funding and concurrent enrollment. He is a supporter of quality education for all students. During the session he has invited Dr. Schmidt to communicate regarding potential legislation that may impact the Hanover School District and/or community. Dr. Schmidt appreciates the time Rep. Lundeen took to meet, and his interest in our school district and community.
Senator Meets with Superintendent and Board Members
On September 21, 2016 Dr. Grant Schmidt, Superintendent, and four board members, Randy Underwood, Mike Lawson, Tag Allen and Ed Sweazy, met with Senator Kevin Grantham. The purpose of the meeting was to share about our school district community, concerns regarding school finance negatively impacting our district's budget, our solar and hydroponics program development, and feedback on ideas for legislative help for our district. Everyone was impressed with Senator Grantham's genuineness and openness to visit with us. He has extended family living within Hanover School District. Senator Grantham is a member of the Joint Budget Committee. You can learn more about our Senator at http://kevingrantham.com/.
______________________________________________________________________________
State School Board of Education President Visits Hanover
The Hanover School District had the pleasure of hosting State School Board President, Steve Durham, for a visit at the Junior/Senior High School. Pictured above from left to right, Superintendent Dr. Grant Schmidt, Principal Danielle Van Esselstine, State Board President Steve Durham, Hanover Board Vice President Randy Underwood, and Hanover Board Treasurer Ed Sweazy. Mr. Durham was given a tour of the Junior-Senior High School. During the tour, he learned about the history of the school district and our current needs to be met through school finance and legislation. Mr. Durham shared very similar beliefs and values as the Hanover School District and community. He has agreed to open communication line between us and him, especially feedback on State Board of Education agenda items. We greatly appreciate Mr. Durham making time to visit our amazing school district.
---
Click here for archived newsletters…
---